David Pannett's Music and Gumbo Spot
---
---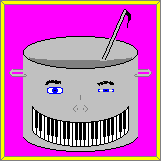 ---
---
Welcome to possibly the only place on the Web offering both real-time algorithmic MIDI music software and free gumbo recipes!
This is the place for information and support direct from the author of Improvise, a very popular and very cool music software program that runs on Windows and Windows 95.
This is also the place where the secrets of great gumbo are revealed.
Goodness knows what else you may find here as this page evolves.
Please note that these pages make use of certain "Extended HTML" features, and so may not appear in all their visual glory when viewed using older or less-capable Web browsers.
That's about it. We got music, we got gumbo -- so follow the links below to get what you need!



Improvise Center
Gumbo Town
Send email to David Pannett
This page last modified 21 December 1997.
Copyright © 1997 David Pannett. All Rights Reserved.